Illustration Elements
Illustration Éléments
Illustration Sub-competencies
Context
During free exploration, children choose and design their own activities. They interact freely with materials that are provided, with other children, and with families who are there with their own children. They are self-directed during this time but receive support from the teacher as they play. Sometimes, they engage in explorations or play that extends over several sessions.
The teacher observed and documented two girls, as they created a "nail salon" over two sessions, several weeks apart, and involved other children and families in their play. She focused her observations primarily on "B" and offered the following questions about what she observed:
"I wonder where B gets her creativity from? How does collaborating with her friend S lead them to open a nail salon and other businesses? I wonder how both can work together and reach non-verbal agreements on how they would play. How does her actions impact the way other children perceive her, and how does that tie into making meaningful and long-lasting relationships with her friends and classmates?"
Illustration
Learning Story
During free play, B and her friend S took eggs, a telephone, a jar with markers and a watch over to the "literacy corner" where the teacher had set up some "dot the letter" provocations. Then they sat down and said: "We're going to do a nail salon".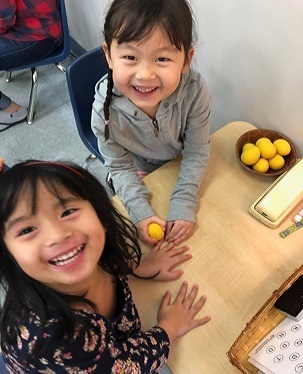 They set up their items on the back of the table. S cleans B's nails with the egg
S: B what color do you want for your nails?
B: Hmm the pink one.
S: Okay. First we have to clean your nails. (S takes the egg and cleans B's nails)
S: Now we put the color. Put your hand here. (S opens the marker).
Teacher: S let's ask B's mom first if we can put the color on B's nails.
S & B: Good idea. (B and S go over to B's mom) Auntie can we put the color on B's nails?
B's mom: Oh no, I think not. (S interrupts mid-sentence.)
S: It's okay. We're just pretending. See we put the lid on.
B: Yeah just pretend.
The children switch seats and B does the same process to S's nails.
They run back to the table to continue. S pretends to put the pink marker on B's nails.
S: Now we have to polish.
S uses the watch to polish B's nails.
S takes the bottom of the phone and tells B to put her hand in
S: Don't move, your hand needs to dry.
B: Okay. Is it done?
S: Yeah all done. Check your nails. Do you like it?
B: Yeah!. Okay now it's your turn for your nails.
The children switch seats and B does the same process to S's nails.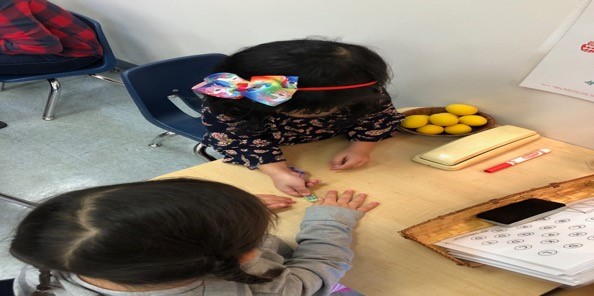 Next, they decided to go around the classroom to ask other parents and children if they would like to get their nails done. After one mom and dad finished getting their nails done, B said, we need to make a sign so people know they can get their nails done in our store! B grabbed a piece of paper from the art table and wrote her name. She asked S to write her name, and a dad to write the word "nails" and draw a hand with nail polish. S asked the teacher for tape. "Ms. M we need tape to put our sign up for our nail shop! They put up the sign and started to ask other children if they would like their nails done.
Soon a line up forms and other children are waiting to get their nails done. As the children get their nails done B and S treat the children as customers, commenting on their dress and nails (e.g., Do you like them? I like your dress. That's Elsa.)
A few minutes later, the children begin to add other signs such as Flu shot:
S: Make sure to put registered nurse because only a registered can do a flu shot.
They also created a sign for a "Gluten free hair salon."
S: I like that name, that's why.
This observation occurred on the last week before winter break. The educator decided to leave the signs up and see if the children would return to their work in January. As the children entered their first day of school after the break, S and B surely went back to their work. They both came back to their "salon" and asked different friends which service they would like. They added new services(e.g., face-paint shop), and each day, specified which service they had available. Children and parents could choose from of the options available.
Profiles
PROFILE THREE
I communicate purposefully using forms and strategies I have practiced
I participate in conversations for a variety of purposes (e.g., to connect, help, be friendly, learn/share). I listen and respond to others. I can consider my purpose when I am choosing a form and content. I can communicate clearly about topics I know and understand well, using forms and strategies I have practiced. I gather and present basic information I need
PROFILE TWO
I can get new ideas or build on or combine other people's ideas to create new things within the constraints of a form, a problem, or materials.
I can get new ideas to create new things or solve straightforward problems. My ideas are fun, entertaining, or useful to me and my peers, and I have a sense of accomplishment. I can use my imagination to get new ideas of my own, or build on other's ideas, or combine other people's ideas in new ways. I can usually make my ideas work within the constraints of a given form, problem, or materials if I keep playing with them.
PROFILE TWO
In familiar settings, I can interact with others and my surroundings respectfully
I can build relationships and work and play cooperatively. I can participate in activities to care for and improve my social and physical surroundings and use materials respectfully. I can solve some problems myself and ask for help when I need it; I listen to others' ideas and concerns. I can be part of a group, and invite others to join. I can identify when something is unfair to me or others