Definition
The Communication competency encompasses the knowledge, skills, processes and dispositions we associate with interactions with others. Through their communication, students acquire, develop and transform ideas and information, and make connections with others to share their ideas, express their individuality, further their learning, and get things done. The communication competency is fundamental to finding satisfaction, purpose and joy.
The Communication Core Competency has two interrelated sub-competencies: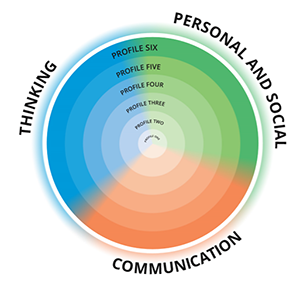 Communicating encompasses the set of abilities that people use to impart and exchange information, experiences, and ideas; to explore the world around them; and to understand and effectively use communication forms, strategies, and technologies. Communicating provides a bridge between peoples' learning, their personal and social identity, and the world in which they interact.
People who communicate effectively use their skills and strategies intentionally to ensure understanding their audience. They communicate in an increasing variety of contexts, for a variety of purposes, and often with multiple audiences.
Collaborating involves the skills, strategies, and dispositions that people use to work together to pursue common purposes and accomplish common goals.
People who collaborate effectively recognize how combining others' perspectives, strategies, and efforts with their own enhances collective understanding, use, and impact. They value the contributions of group members, interact supportively and effectively using inclusive practices, and strive for shared commitment and mutual benefit.